Goals Overview Courtney Allbee
In this article, we're going to break down the goals overview in Followup CRM.
On the home page, you'll see the goals display. You have your bid volume and your captured contract volume goals. You also have sales behavior quota goals. (Note: not everybody uses sales behavior quota goals, but we will dive into what this is later in the article).

The bid volume is how much you're bidding every month and the bid volume quota is how much you need to bid each month.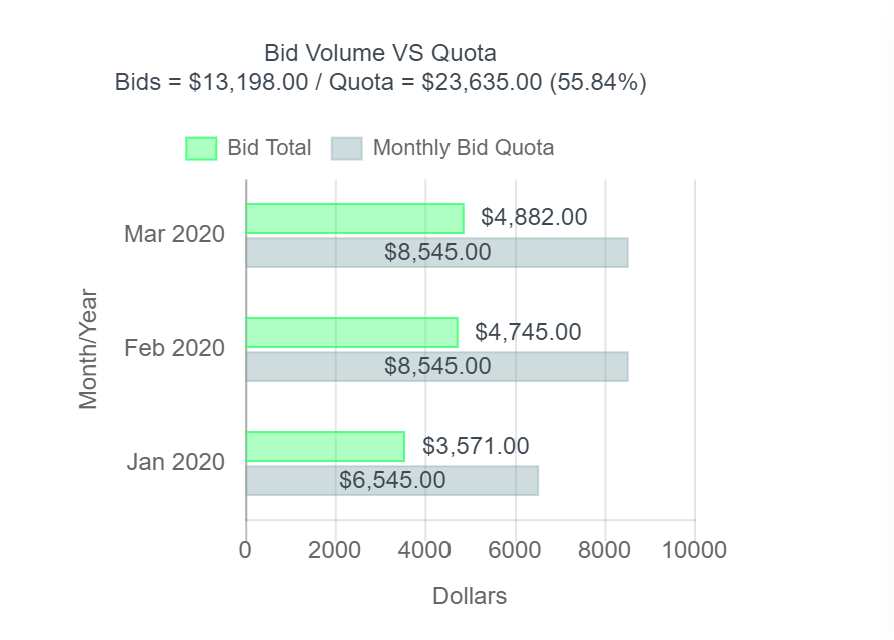 In the center column, you'll see the captured contracts for March. The gray bar is the captured contract goal and then everything in green is what you've accomplished against that goal.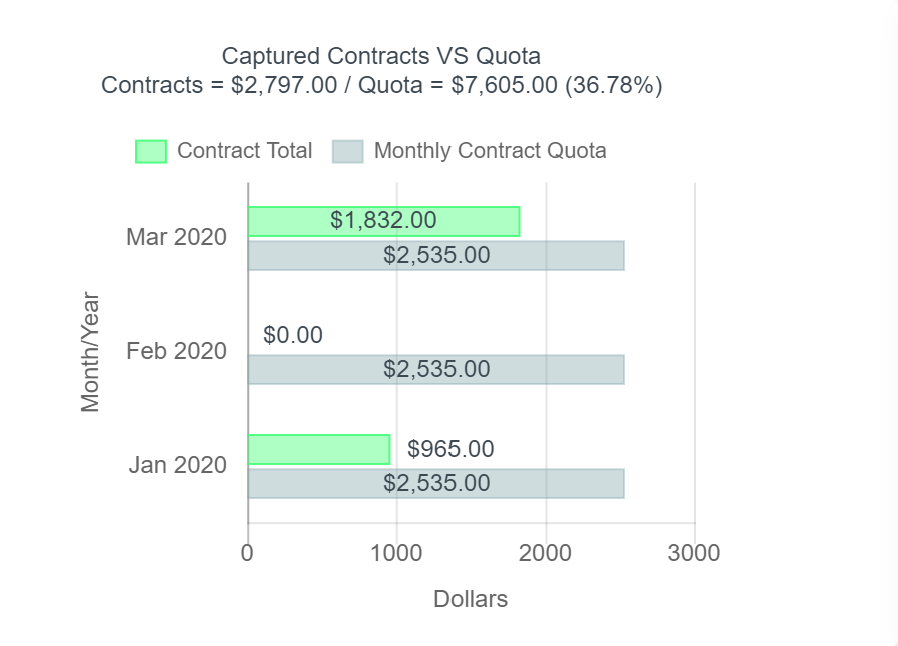 If you're wondering how you should calculate your bid volume and captured contracts goals – say as a company, your goal is to close $1 million in sales every month. This will be displayed as the grey bar in your goals overview. Now let's say your closing ratio is 50% (you close 50% of the projects that you propose). If your monthly goal is $1,000,000 and your closing ratio is 50%, that means you'll need to bid $2,000,000 in order to reach that goal.
When you have the company selected, you'll see everyone's individual quotas combined.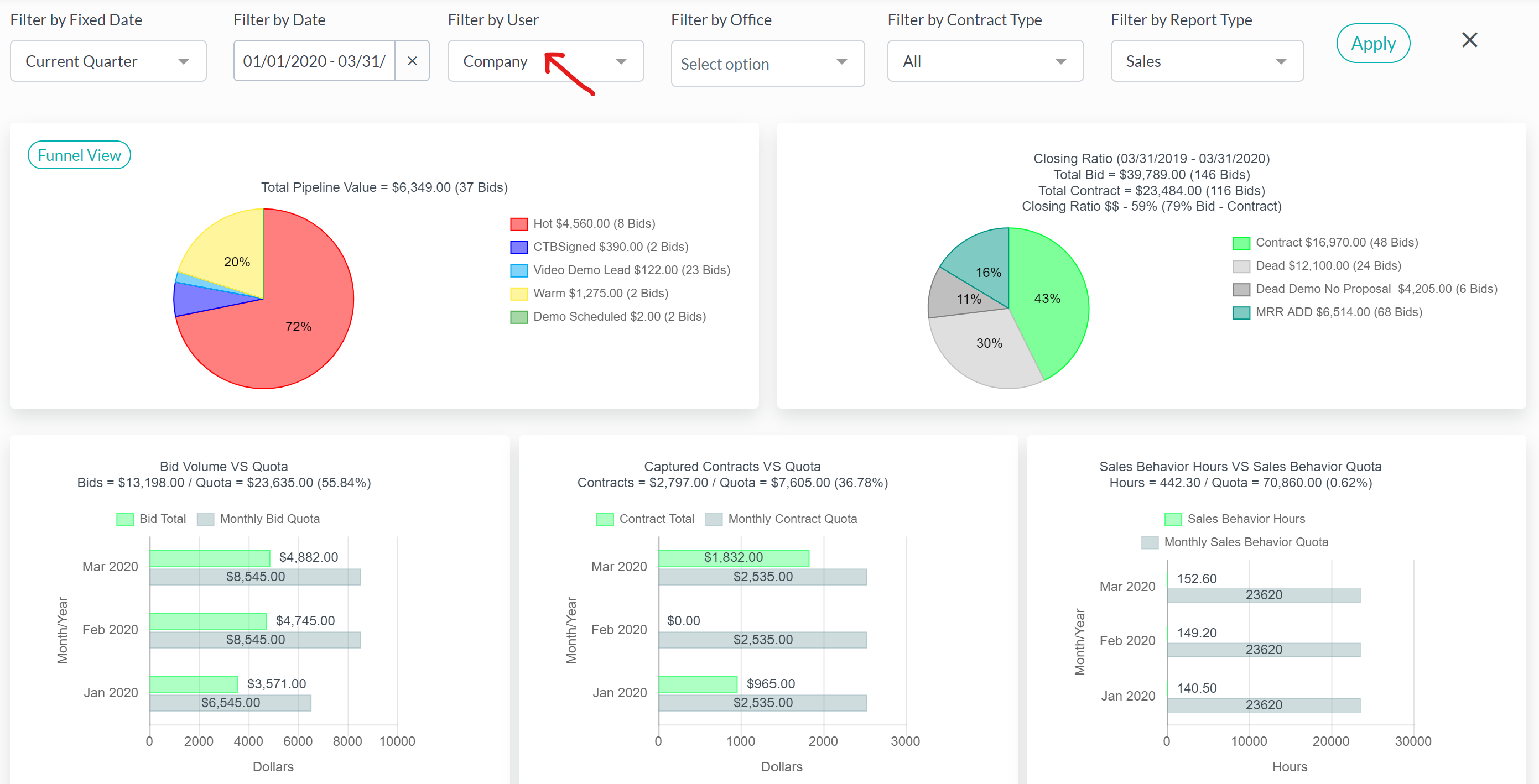 When you select an individual user, you'll be able to see that individual's quotas.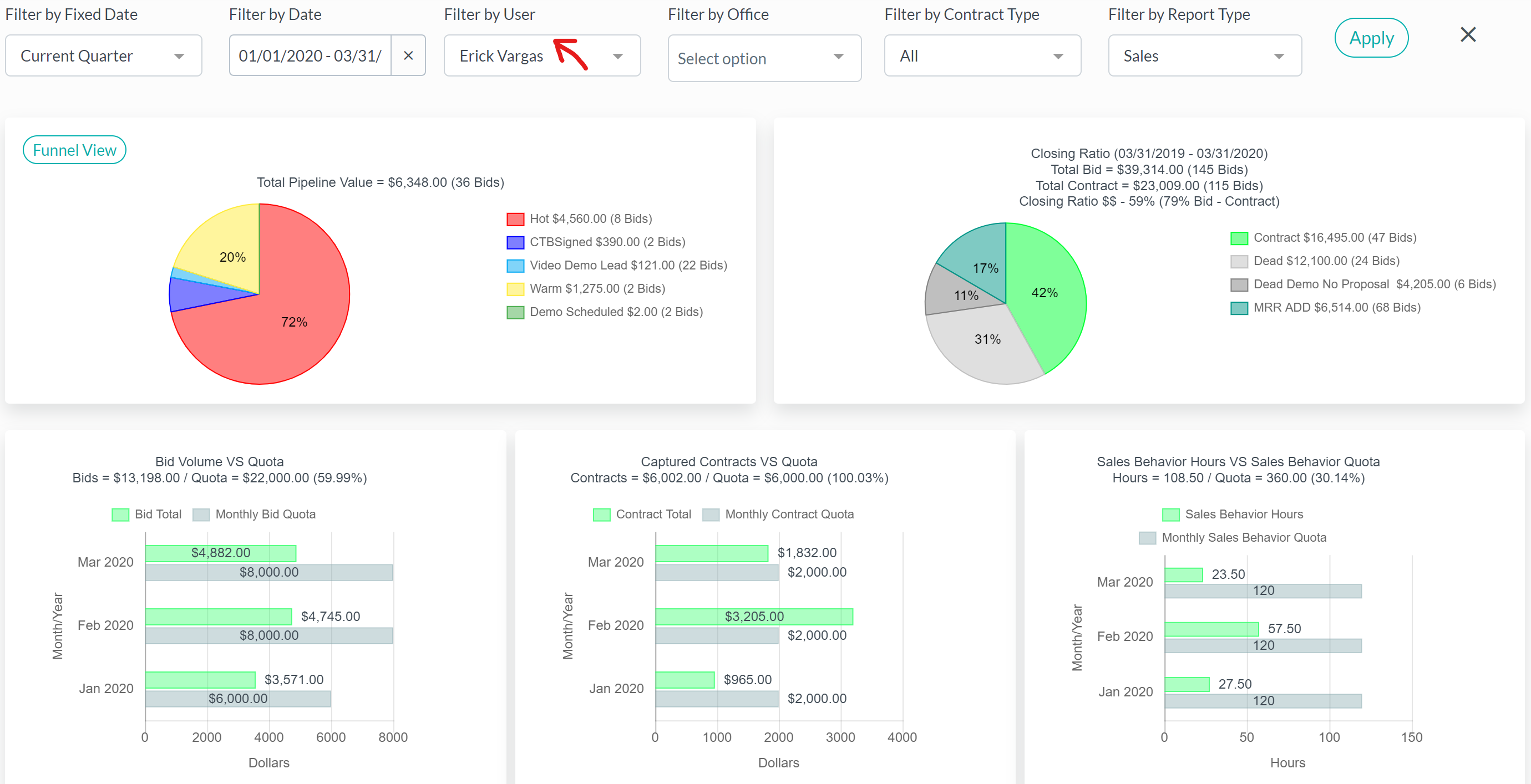 Sales behavior hours are according to the activities.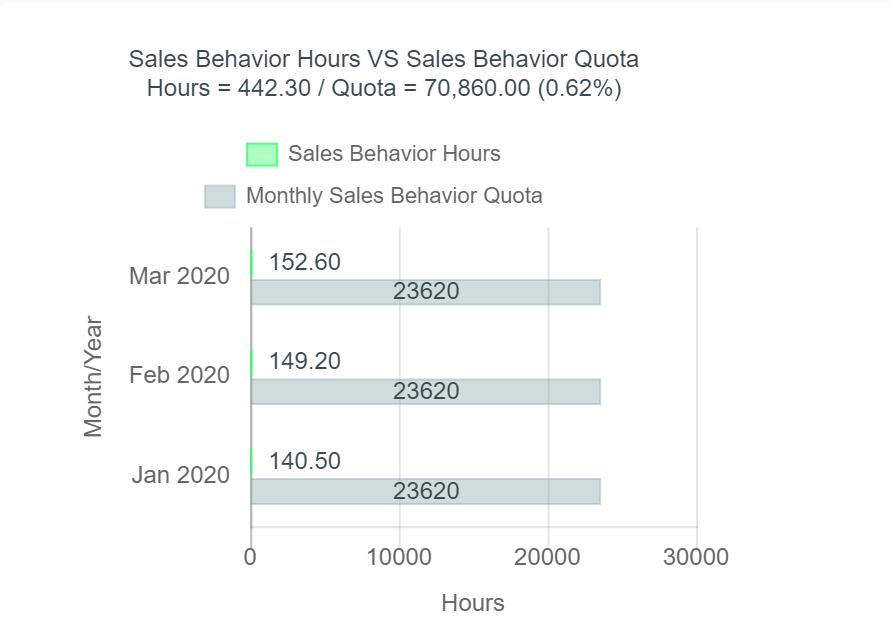 These activities in the third column of a file (file data > select a file) have a credit assigned to them, so, for example, every time you complete a support ticket and check it off, you'll receive 30 minutes credit. You can assign a credit to each activity based on how long they take in the settings area under the sales figures.

To set sales behavior hours and quotas, go to the "company settings" in the top right drop-down, and click on the tab that says "sales behaviors."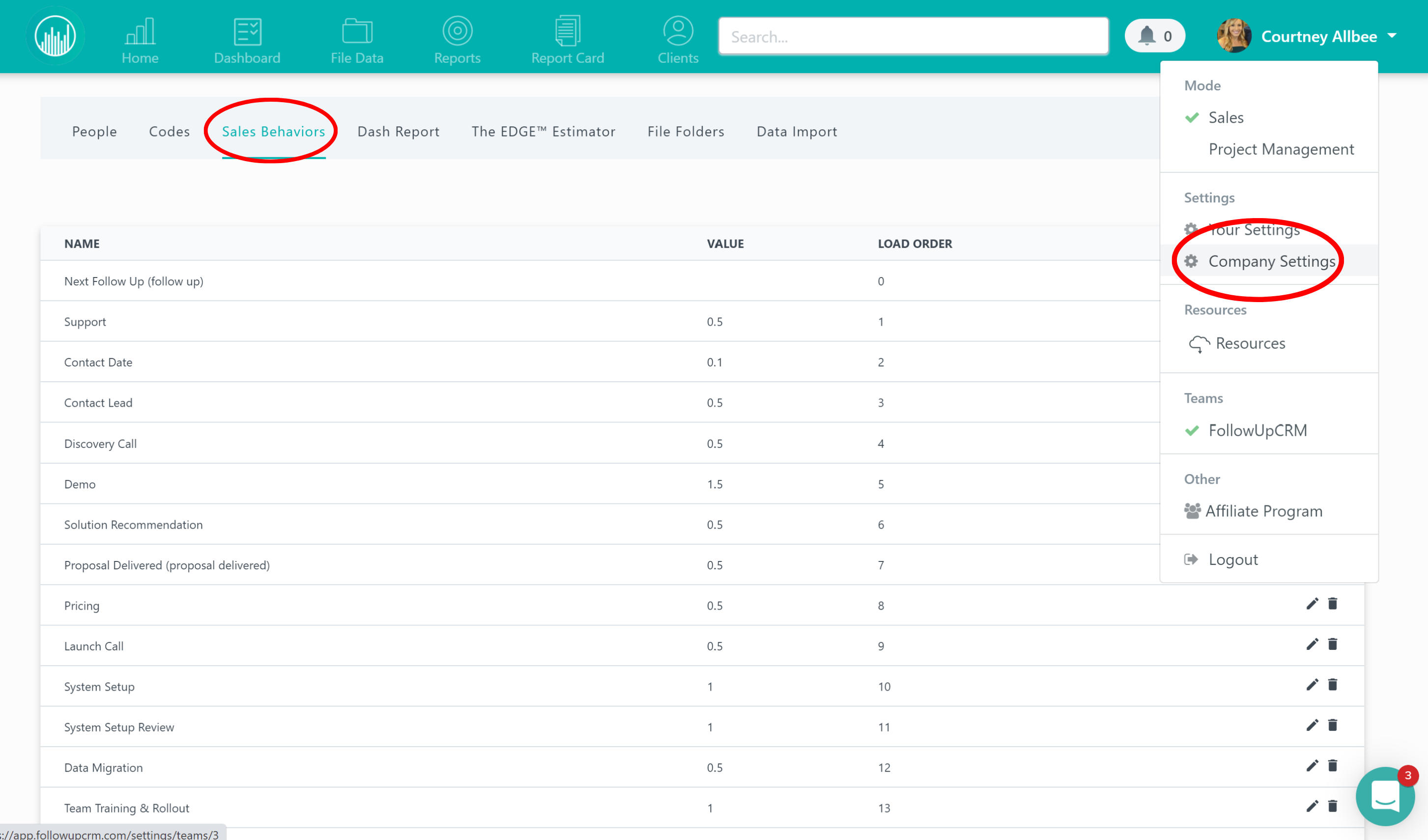 You can edit and assign values by clicking on the editing icon to the right of each activity and delete any activities by clicking the trash can icon.
To set individual quotas, go to the "company settings" in the top right drop-down, and you'll see "people."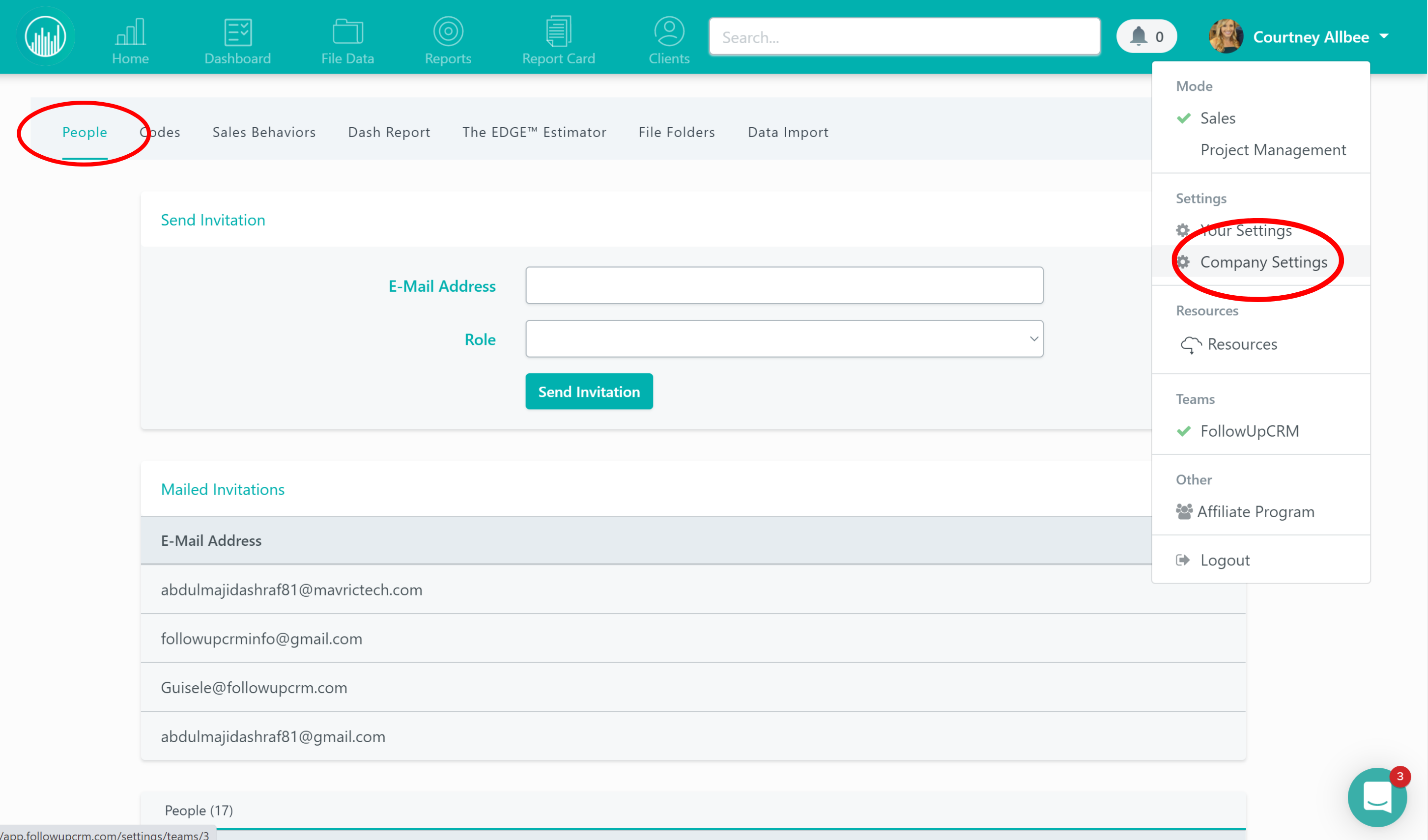 If you scroll down, you'll see a list of users. If you select the "$" icon, you can view and edit individual quotas.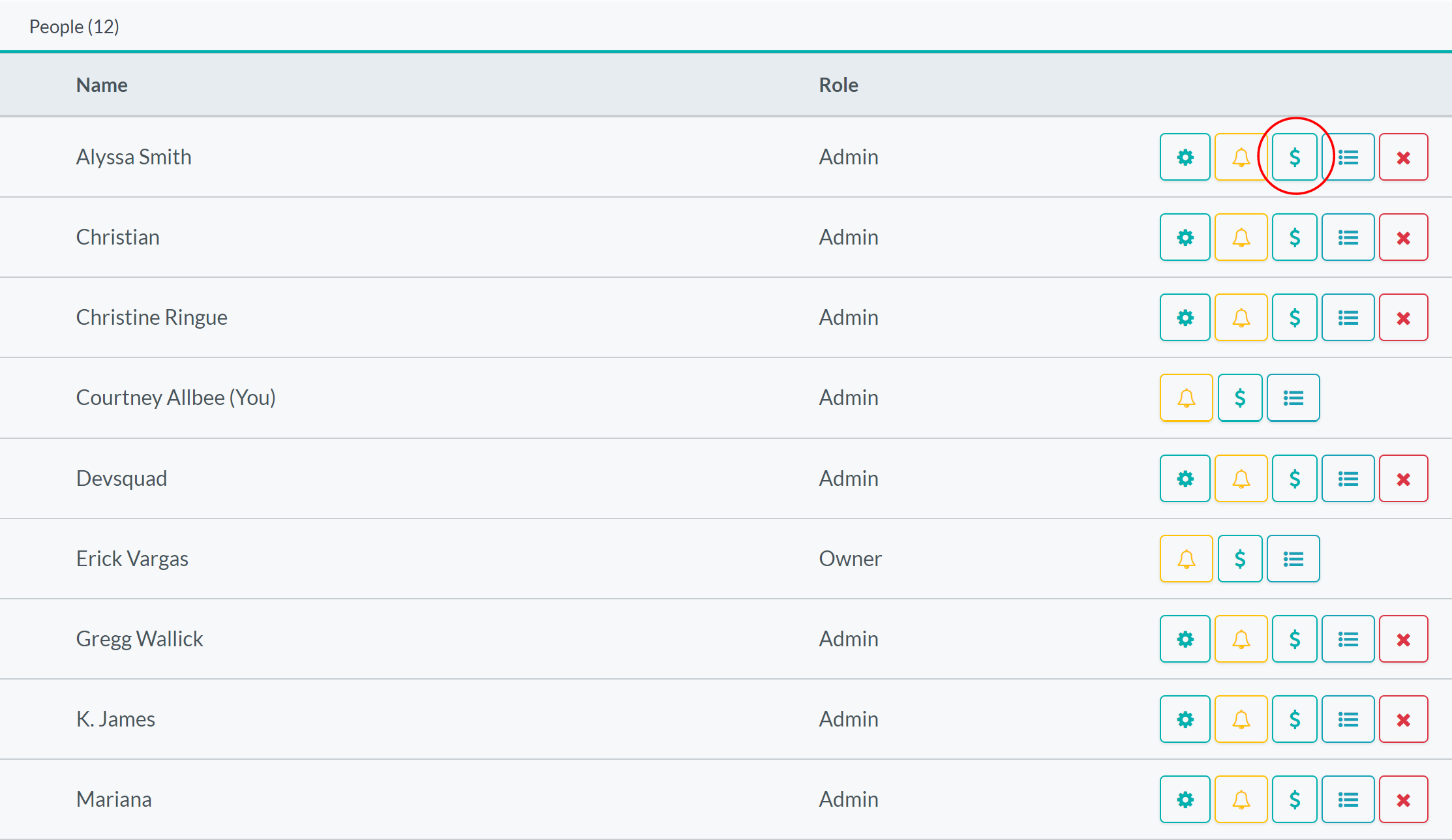 You can also add a new quote by clicking the "+" sign in the top right corner (after clicking on a user's "$" symbol).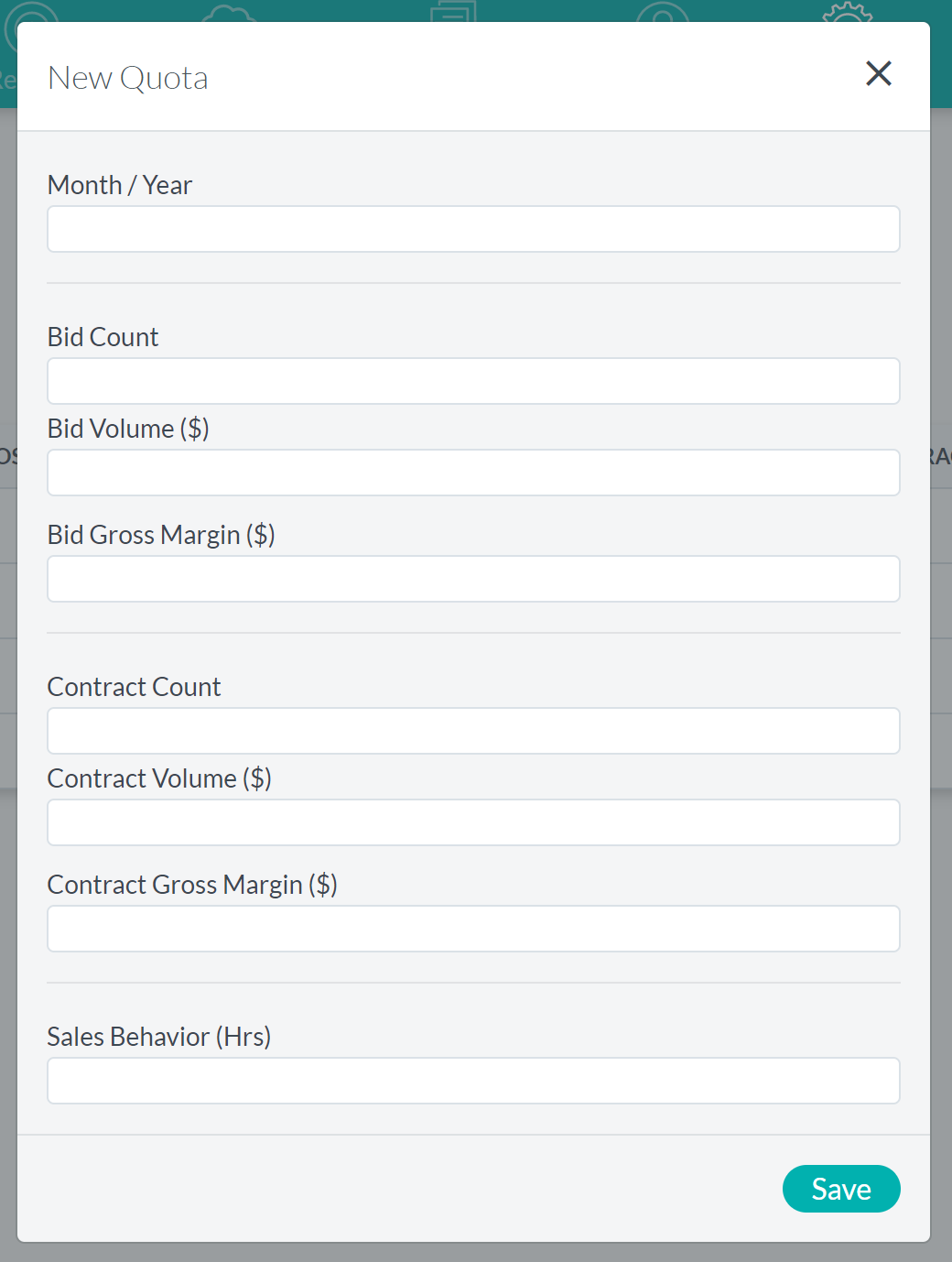 First, you'll select the month and the year that you want the quota to begin. Next, you'll determine the bid count, which refers to how many bids they need to deliver. You can have a bid volume dollar amount that you need to bid, and you could also have a number of proposals you need to deliver.
For example, if you want that individual to deliver $2,000,000 in proposals but they also need to deliver at least six proposals. You can also have a bid gross margin that they need to deliver – so say they need to deliver at least $200,000 in gross margin.
Contract count is the same as bid count. Say your contract volume is a million, you will need to win at least three contracts.
Contract gross margin is the same. We want them to win at least a $100,000 in gross margin.
And then sales behavior hours is how many hours you want your individual team members to accomplish every month.
If your company doesn't have individual quotas for each user, then you can choose one user to put the entire company's quota under. Every user's quotas automatically contribute to the company's reports but if you don't want them to, you can unselect it in the top right checkbox. You can choose to use the quotas you want to... if you only want to use bid volume and not bid count, you would just place a 0 in the bid count space.

Did this answer your question?